Getting Started 0
Getting started with aurivus point cloud AI
aurivus AI is the fastest way from point cloud to CAD-Model. Take the first step by watching our free introduction videos and trying out the technology for yourself. You'll be amazed at the accuracy and speed of our AI and the impact it can have on your projects. 
Let's unlock the full potential of your laser scan data together!
1. Register at https://app.aurivus.com
2. Download our sample or upload your own point cloud as E57 or RCP
3. Get our Revit Plug-In under Downloads
4. Accelerate your CAD workflows and streamline your modeling process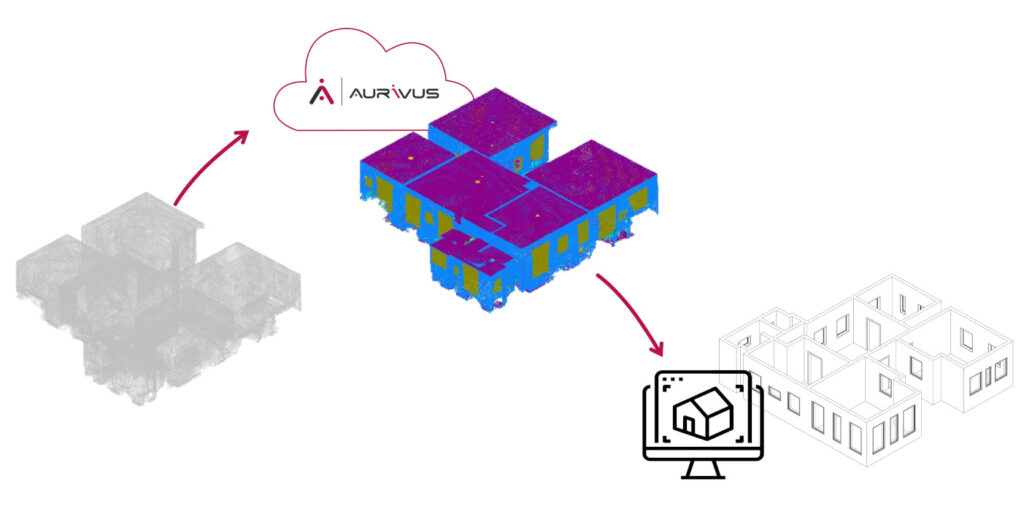 The easiest way is to upload a single E57 file.
You can also upload a zipped RCP project. Please make sure to put the RCP file and the Support Folder into a ZIP file. We recommend to export a unified project from Autodesk Recap before uploading.
However, unified, structured, or unstructured is all supported but unified/unstructured removes redundancy and reduces the file size.

The pre-modeled point cloud is stored with a .aurivus file. This file can be loaded into Autodesk Revit using our Plug-in. All information the AI found in the point cloud is stored in that file including
CAD-like layers
CAD-like point cloud objects
Object position, dimension, orientation in space
point, point, point …
Great news! In addition, and by default, you receive E57 files export where each E57 file contains one class layer. E.g., one file for the walls, one for the floors, and so on… This E57 split of the point cloud is specifically designed to be compatible with other CAD software like Microstation.
You mastered the basics of our AI tools? Well then it's time to take your skills to the next level. Get to know our advanced features and unlock the full potential. Join our webinars and learn how to work with the AI as a team mate to draw faster than ever before. Let our technology be your secret weapon to take your CAD workflows to new heights!